It's time for another Traktip! Please note: as of Issuetrak version 12.4, the My Issues page was replaced with the Issue Hub.
There are multiple ways to manage the issues in your queue, each one dependent on how you attack your workload. The Dashboard, for example, allows you to drill down into specific issues. Or you could pull up issues directly as email notifications roll in.
Another way to tackle your workday is to use the My Issues page. This page gives you a summary of all your open issues and tasks, in addition to any Issuetrak calendar reminders and a shortcut to your reports.
Using the My Issues Page
Every user with the "My Issues" menu option permission can see at a glance all of the issues or tasks they play a role in. This is is also available in the new Issue Hub for users with version 12.4 or newer.
The information is presented in a series of tabs. The specific tabs you see depend on what access and roles you play on any issue. For example, if you don't have the permission to be assigned issues, the "As Assignee" tab will not display.
The tabs that are potentially listed include:
Today's Reminders

- from the Issuetrak Calendar

Global Issues

- any issues promoted to "Global" status

Summary

- list of all issues you play a role in

As Submitter

- issues you submitted or were submitted on your behalf

As Enterer

- issues you keyed into the system either for yourself or someone else

As Assignee

- issues assigned to you or one of your groups

Unassigned

- issues that have no assignment value

As Task Assignee

- list of tasks assigned to you, regardless of whether that task is available to be completed

As Task Available

- list of tasks that are available for you to complete

Reports

- a list of Saved Searches or Reports you've created or are shared with you
Each tab displays a count of issues or tasks, and clicking on the tab will display the list.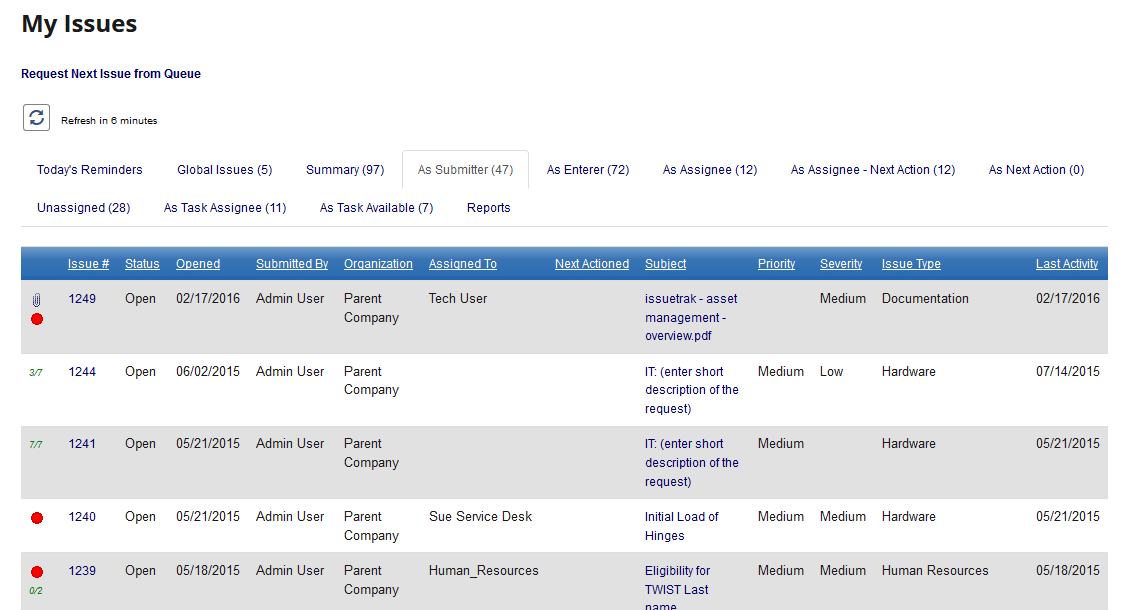 Setting the Auto Refresh
What's nice about the My Issues page is that it automatically refreshes at the same rate as the Dashboard. Your Sys Admin can figure a system-wide setting for how quickly the Dashboard reloads. To use that setting, no action is required. For each user to adjust the refresh time on their own My Issues page, the "My Settings" feature must be enabled within the System Settings > System Defaults by a Sys Admin.
To adjust that value on an individual level:
Navigate to

Home

>

My Settings

In the Dashboard Reload section, set a time in minutes (preferably 5 or greater)

(optional) Check the box to have the reload timer display

Click Save
That's it! Your My Issues page will now auto-reload at the time increment you set.
As always, if you have any questions or would like to see the new Issue Hub in action via a quick demo, don't hesitate to contact your Account Manager. We're happy to help!!