When it's time to make challenging decisions or garner opinions that can impact our most valuable asset, our PEOPLE, Issuetrak sends out a Thoughtexchange.
What is a Thoughtexchange? How does it work? What do we gain from it?
Thoughtexchange is a web-based engagement tool for gathering feedback, a new way to lead conversations about things that matter. Setting up and sending out a Thoughtexchange is similar to a survey; however, the purpose is to address current issues, one question at a time. Participants can share thoughts anonymously, consider different points of view, and rate responses shared by others. Each exchange has two parts, the background to explain the reason behind the exchange and then the actual question.
We started using Thoughtexchange last year. It's proving to be an excellent way to gain valuable insights about what's important to our employees. We post the link to each Thoughtexchange to Slack and give employees a week or so to respond and rate responses. During our monthly All Hands meeting, we go over the results. We've been using employee feedback collected through Thoughtexchange to drive change in our organization.
Our first thought exchange
Earlier last year an employee survey went out. One question focused on how we are doing as a company in supporting the wellbeing of our team. We posed the following question for them to consider: Am I provided an ideal balance between work and life responsibilities? As a management team, we thought we were doing an adequate job of being flexible and understanding when personal issues arose for employees; however, the ratings showed we could do better to support our team in this area. But what? Ratings don't provide specific information. This sparked our first Thoughtexchange: What does work-life balance look like to you? What are some things we can do to help support this?
Top rated responses: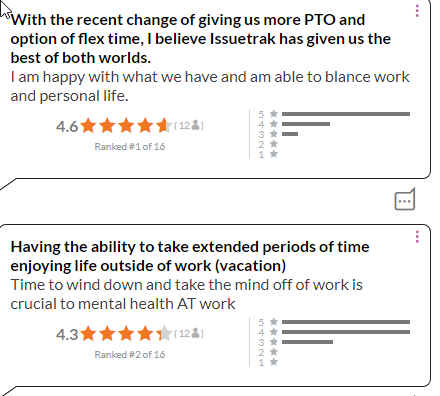 Outcome = Amazing! That's how we would describe the results. Participation was higher than we had anticipated, and we gained detailed feedback, something survey ratings don't typically provide. Most importantly we empowered our team to share their voice...and our senior leadership took this information to heart. Our PTO policy was improved, a parental leave policy was formed, and a flex time schedule was adopted!
Receptiveness of team
Our team immediately took to using Thoughtexchange:
"Thoughtexchange is a wonderful tool that allows employees to rate other employees' inputs on upper-management-posed questions anonymously, which has been a spectacular process thus far, with plenty of involvement and participation." - Mike Brinn
"Great tool for allowing employees to speak freely on difficult topics without fear of isolation or unintended consequences." - Noel Lucas
"Thought Exchange is an easy tool to provide my company with feedback concerning the work environment in an anonymous way. Being able to read and star other comments allows me to be able to agree with others' statements and help jump start my own thought process for the item in question." - Emma Wells
"I love that Thoughtexchange gives everyone the opportunity to express their feelings anonymously. This makes people feel more comfortable giving their opinion." - Tiffany Abreu
Since the first exchange, we have posted questions to assist with planning employee events and team activities. Up next, we'll be using Thoughtexchange to engage our employees in a company "culture check." If you are looking for ways to improve employee participation, foster a culture of inclusion, and make better decisions...we HIGHLY recommend you give Thoughtexchange a try!