Business leaders responded in a survey that inefficient procedures are the #1 cause of time wasted at work. Per day, we lose:
238 minutes to interruptions

84 minutes to restart tasks after interruptions

50 minutes to fatigue and stress
Daily disruptions interfere with workplace productivity. Even our post-pandemic shift to remote work deals with more static than ever, from laundry to kids to your zillionth Amazon delivery ringing your doorbell.
How can you curb interruptions and get into your flow? We have some answers and methods for you.


In 2015, Loudhouse surveyed more than 500 global business leaders. 44% of respondents claimed inefficient procedures were the #1 time-waster at work. Not social media. Not chats over the coffee maker. Processes.

When an IT technician walks down the hall, they are easily beset with requests for a new mouse, favors to check a download, and questions about the printer. It's a wonder they don't pull their hair out! (Well, maybe some do.)

Interruptions aren't the only enemy. Spreadsheets, paper forms, and hopping between different platforms are also barriers to productivity. Even remote workers aren't spared from the consequences of distractions. Endless pings from Slack, Teams, and Zoom have become a regular part of our WFH soundtrack—with every ping leaving its mark.

SEE: 5 Signs it's Time to Swap the Spreadsheets for Software

When the office brims with activity, how do you set priorities on your to-do list? How do you give 100% focus throughout an entire task without distraction?

We recommend coupling soft skills with tangible tools from the right SaaS company.

You can achieve a lot when you concentrate on your soft skills, but it requires willpower, self-discipline, and character. This combo makes you powerful—but let's be real. It's not always easy to get there. In this blog, we're tossing in the tool-based part of the equation to make productivity work for you.
Ask Yourself The Right Questions—5 To Be Exact
Question 1: What is the highest-value activity?
You're missing out if you have yet to hear of agile-scrum development.

The agile-scrum method focuses on delivering several product iterations to provide stakeholders with the highest business value in the least amount of time.

In plain English, you work and communicate piece-by-piece on a project with a stakeholder. This ensures you're hitting the desired benchmarks for the product you're creating.

Agile-scrum requires systematic planning and goal setting. These regular check-ins help the scrum team focus on the highest-value objectives, increasing productivity. In the software world, developers build product features in sprints and use stakeholder feedback to make adjustments along the way.

The highest-value activity of the moment doesn't disregard the long game, however. Gartner Digital Markets actively promotes an idea called bimodal IT for effective productivity measurement. Mode 1 "Marathons" involve stable, long-term planning. Mode 2 "Sprints" focus on pivoting with agility for quick results. Bimodal IT helps an excellent software product survive in today's digital economy.

Monitoring this modality can be easy if you implement compliance measures. Compliance uses status and substatus rules to indicate progress and urgency on a stakeholder's issue.

Whether during the development stage or with ongoing product support, compliance helps you stay on top of requests and issues. In other words, if you're in the red, you better get moving. Compliance helps you keep your highest-value activity deadline—and your customers happy.
Question 2: What is rightsizing? Get results when you downsize your tech stack, not your staff.
Recent decades have seen the ebb and flow of downsizing. More than one of us has felt the pang of one of the biggest issues in recent times: The Great Resignation bears witness to employee losses that companies choose not to backfill. Check that you side with a company focused on right-sizing.

Employee shortages in the cloud, data science, and other talent areas are a spot for sore contention. But we can make change to get real results by serving areas of tech that are chronically understaffed or improperly resourced.

TechRepublic's Matt Asay says it best:
"It's time to wake up to the need to train existing employees to do the cutting-edge work companies require…many companies are overweight in the wrong areas. In other words, companies arguably don't need to shed staff, but rather to right-size some key yet usually underserved staffing areas like documentation and support."
Consider your unique value proposition, comprised of your experience and soft skills. Also, do your values correspond with the company you've settled on?

What kind of lateral mobility does your job offer? You may be in Sales today, but perhaps your true calling lies in coding. (True story! One of our TSAs is mid-journey right now.) Will your job offer you that chance?

If yes, then you'll find your situation twice as enjoyable and your work ethic abundant with productivity.
Question 3: What is the most valuable use of my time right now?
Have you ever heard of the Eisenhower matrix? (No, it has nothing to do with Morpheus or Neo.) If you're in charge of a lot and need to relinquish a few responsibilities to others, the matrix will help you delegate tasks—and even trash the unimportant ones.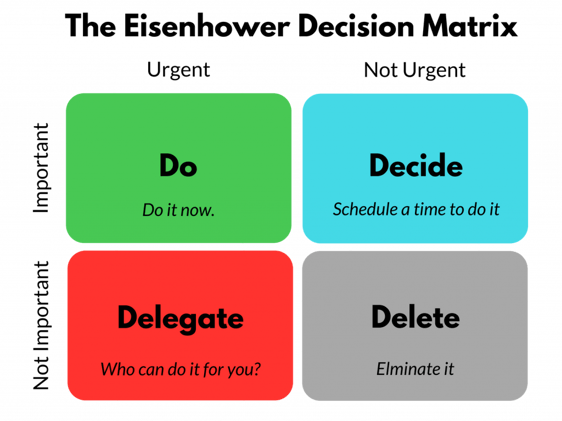 Image: Luxafor

SEE: Time Management Techniques for Productivity

And guess what? Some tasks don't require human delegation. Take advantage of after-hours workflows. It'll hum along in the background while you stay focused on tasks requiring refined human judgment. Sequencing emails, elevating issues, and more can be relegated to a workflow mechanism, freeing you up for more complex matters.
"Issuetrak is cutting 75 percent of the time I used to spend on customer support requests. I get hours back in my week that I can spend on getting new business." Linda Link, President, Answer Quest Technologies
Question 4: Am I focused? Complete priority #1 at 100% until it's done (and done well), then move on to the next one.
Here's another not-so-secret tool to boost productivity across a team: a Task Manager. Notifications from a digital Task Manager cut back on interruptions and prioritize your to-do list for you.

"Research has found that interruptions in the financial services industry can take up to 238 minutes a day," Brown told the Post. "Then you have to restart. That's the loss of another 84 minutes, leading to inefficiencies like momentum loss or do-overs caused by errors.

"Stress and fatigue cost another 50 minutes. That's 372 minutes, or 6.2 hours every day, or 31 hours a week – almost a whole person in productive time lost."

Let's be honest. I'll bet while reading, a good portion of you got distracted by something shiny. It's high time we get on board with distraction-safe procedures that help us curb frustration and get our work done—wouldn't you agree?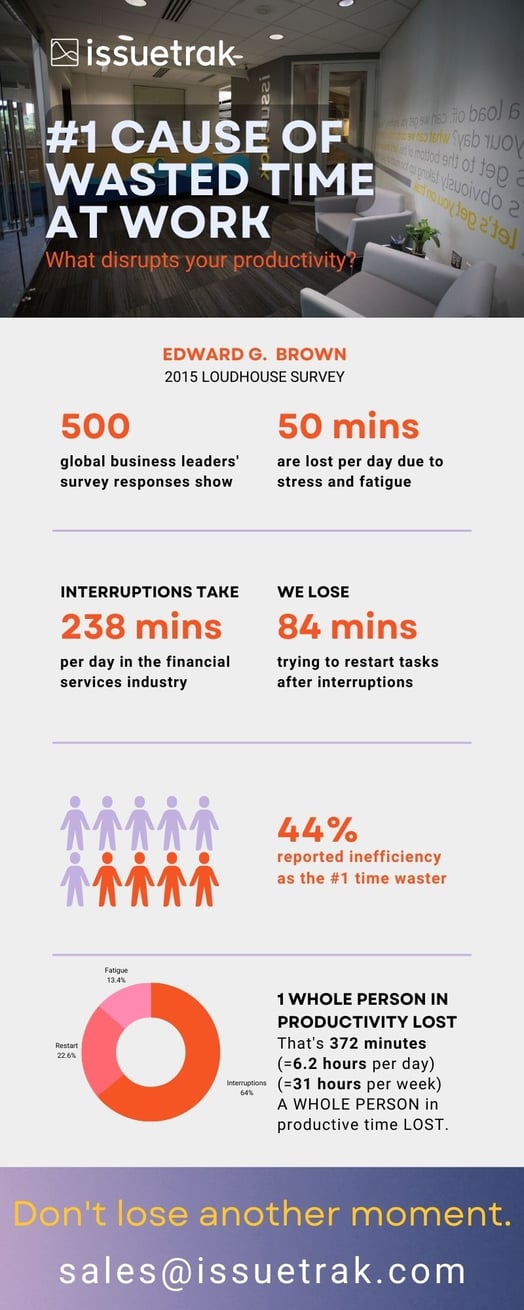 Question 5: Am I using the right tools?
Unique software features give you a concise checklist and expedite all of the above to strengthen your productivity rather than weaken it. Key features to look for when considering an issue management software include:
Automated notifications
Pre-defined workflows
Task Manager
Compliance status
Agile team methods
Easy ways to triage consumer feedback for better business or product development
And more, so much more.

Take a look yourself. You don't have to be stagnant. You can be as productive as you want to be. Just concentrate—and use the right tools to get you there.

Our Product Experts have over 21 years of experience creating streamlined processes and saving time for busy professionals like yourself. Are you ready to see if Issuetrak is the answer to your productivity needs?