An Emerging Market Under Biden's Clean Energy Bill
Mar 8, 2023 9:25:46 AM
Read time: 5 minutes
New Emerging Electric Assets Under Biden's Clean Energy Bill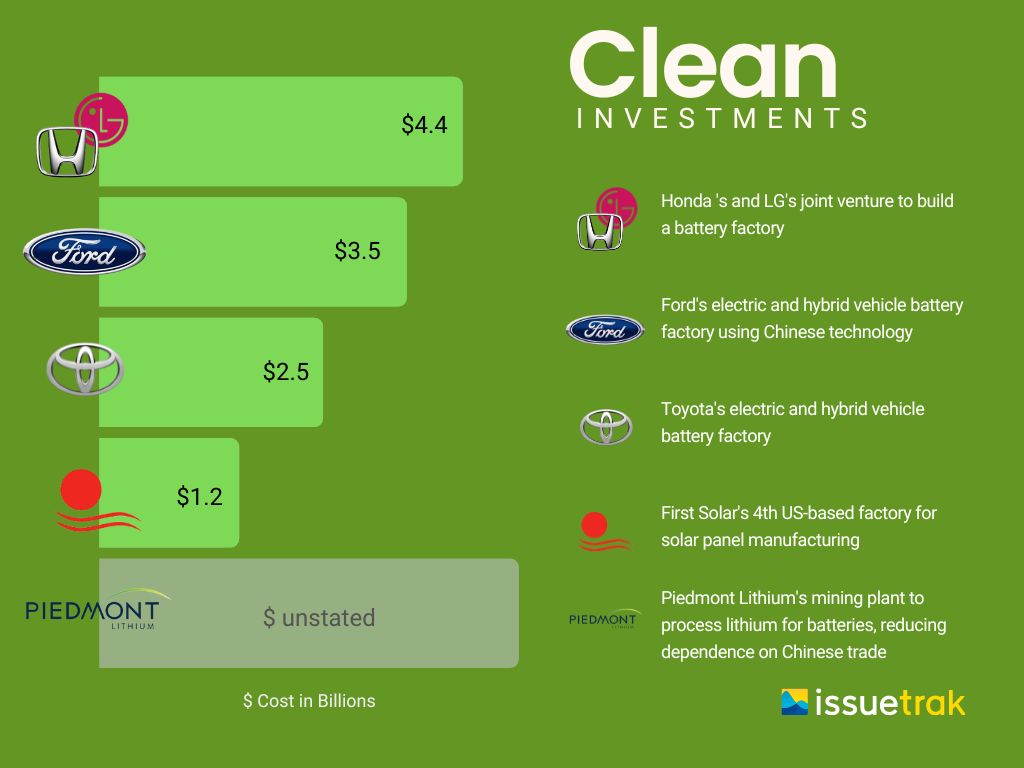 Stats obtained from the NY Times
We're on the edge of a new barely-tapped market. Under Congress's new Energy bill, the Inflation Reduction Act will pump $369 billion in direct funding, loans, and loan guarantees into corporations, consumers, and states that adopt clean energy production and practices.
Norm Bafunno, a senior vice president at Toyota Motor North America, added that the legislation could be a "catalyst for domestic battery production". But if you're hoping to swap out your gas or diesel-powered engine for an electric one at your local shop, you're in for a surprise.
A simple Google search will show you the wide availability of EV kits and pre-converted classic vehicles ready to take off the lot. But one void has yet to be filled: we lack a solid industry of conversion mechanics ready to replace the parts for you.
A super-charged electric grid is in store for our future. But how soon will electric mechanics seize the market?
Going Electric: Changes to Transportation and Infrastructure You Probably Aren't Expecting
Renewable energy is in for an unprecedented boom in the US following its first-ever climate bill. Not only will manufacturing prosper. New jobs will also emerge, transforming the face of industries and the economy.
The Clean Energy for America Act provides tax incentives for investment in clean electricity, clean transportation, clean fuel production, and energy efficiency, which will undoubtedly attract corporate investors to battery factories, solar panel manufacturing, and mining.
Alongside reducing CO2 emissions, the bill terminates specific fossil fuel provisions. It also requires contractors on federal energy projects to employ qualified apprentices for 15% of total labor hours, reshaping the labor force makeup.
According to WhiteHouse.gov, some unexpected changes brought about by the Clean Energy bill include:
Tax credits. 30% coverage of rooftop solar installation costs, partial coverage on breaker boxes designed to handle the increased electrical load, and $4K-$7.5K towards electric vehicle investments.
Rebates. The Inflation Reduction Act provides rebates covering up to 100% of the costs of electric stoves, cooktops, ranges, and ovens, heat pumps.
Road maintenance fees
School bus modifications
Motor Fuel Tax Recovery fee
Road Use Tax
Given the number of pending bills in various states nationwide, much more is on the horizon. This list names just a few.
The conversion to clean energy at the corporate level may finally address the extensive carbon emission problem the US has been facing. But it's not an overnight journey. Clean energy mandates are setting forth new workforce development requirements for the entire energy sector—and corporations must adjust.
Clean Energy Conversion: Is It Worth the Cost?
What are the unforeseen costs—and opportunities—associated with going green? In what cases will clean energy conversion take its toll? Who are proponents of change? And what do naysayers have to say about it?
Fear of change is often our greatest inhibitor to embracing it. It may take years for automakers to adjust their supply chains and comply with legal requirements. For example, manufacturers must comply with limitations on obtaining battery components and raw materials, like nickel—and all such resources must come from the United States or its trade allies. Many corporations might not be bothered to go through the rigmarole.
Domestically speaking, after-market EVs must also meet emissions and safety standards instituted by the U.S. Environmental Protection Agency, the National Highway Traffic Safety Administration, and state agencies like the California Air Resources Board, according to the U.S. Department of Energy.
Corporations have a lot of boxes to check to execute the green transition cleanly. Is it worth the cost of time and investment?
How can businesses transform with the times and manage it all?
Try Issuetrak software at your supply chain help desk, and never miss a ticket submission again.
The answer is yes. If we're talking about playing the long game, electrification will do wonders for energy conservation and our wallets. (Remember, California and Europe intend to ban the sale of gas-powered vehicles by 2035, hinting at a future investment boom.)
On the other hand, waitlisting for a 3-6 month conversion (or even longer if with a conversion company) is a brew for impatience. Demand will surge for new electric motors, electric vehicle conversions, requests for replacement parts, and more. There are ways to prepare for what's coming. We hope businesses have their help desk support teams ready!
A New Sector: 3 Areas That Will Boost Electric Vehicle Conversion Margins
One sector with massive potential for market share growth is electrical vehicle conversion.
1. Classic car hobbyists
Higher torque. Better weight distribution. Easier maintenance. Lower running costs. These are some expected fun vehicle perks as laws and markets converge over a greener future.
It's yet to be common practice, but retrofitting regular vehicles with e-motors is possible, even with an EV conversion kit. Depending on the body, you can remove the internal combustion engine and add a battery pack, electric motor, high-voltage cables, and instrumentation.
This conversion from non-renewable to renewable cars remains very niche and costs beaucoup dollars, making it more of a hobby for enthusiasts seeking to boost the modern value of classic cars.
2. Delivery trucks
Congress's Clean Energy bill offers plenty of incentives for companies to move towards the green end of the spectrum. Even delivery companies, like UPS, are going green via regular-to-electric vehicle conversion. Alongside this shift, new needs will arise for tracking newly acquired or converted electric assets. Converts must consider how best to manage their supply of new assets as their investment in clean energy grows.
3. School bus systems
Washington State already has a pending bill to transform the school bus system from diesel to electric. According to one German mechanic, engine bays can hold up to 8 battery packs, enabling buses to travel 155 miles on 200-kilowatt hours. It makes both technical and economic sense. Converting a regular bus into an electric one is roughly half the cost of a new one.
On a school budget, the lower cost of conversion will entice the education sector to go electric. How will they handle complaint management or maintenance requests then?
Will the Inflation Reduction Act Live Up To Its Name?
In short, yes, when it comes to electricity prices. As tax credits lower the cost of building renewable energy sources, electricity costs will stabilize—a welcome concession against a backdrop of high fossil fuel prices.

The more we take advantage of credits and rebates to install solar panels and build wind turbines, the greater the benefit to electricity customers. This first-ever climate bill has set in motion a greener corporate future with new investment opportunities. All we have to do is drop the initial payment and reap the endless future benefits.
Topics from this blog: Distribution and Logistics
Back