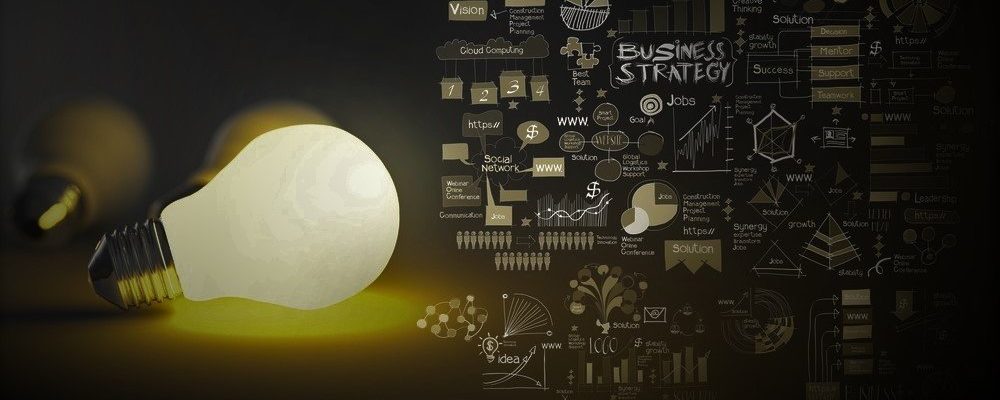 Traktip – Reporting on Tasks
It's time for another traktip!
Tasks are a huge part of Issuetrak. You use them for process management and for all your workflows. You already get multiple methods of knowing when you have tasks available to be completed, but as a manager, you may want more than just the Dashboard snapshots of which tasks are open.
We've had several customers ask us about the best way to get an email "reminder" each week to know what tasks are open. The best way to do this is through a scheduled report set to go out weekly. You would need to use the Report Writer to create both a query and a report specifically geared to tasks.
Creating Queries Specific to Tasks
This example will give you specifics on how to create a report designed to pull all open tasks. Only a user with the permission "Can add, edit, and run Report Writer Queries and Reports" can use the Report Writer.
You'll first need to create the Query to pull all the open tasks.
Navigate to Reports > Report Writer > Queries

Click New

In the Data Set dropdown, select "Issues/Available Tasks"

Select the fields you want to appear. At a minimum, you'll likely want:

Issue Number

Task Assigned To

Task Title (User defined) and/or Task Title (Pre defined)

Task Completed On

You may consider additional fields such as Issue Type, Subtype 1, Subject, and/or Substatus. These provide extra pieces of information that might be helpful. A field must be included at this stage of the query if you want it to appear on the report.

Once you have your fields selected, click Next

In the Field dropdown, select "Task Completed On"

In the Condition dropdown, select "Is Blank"

Click "Save Filter Expression", then click Next

Give your Query a name, then click Finish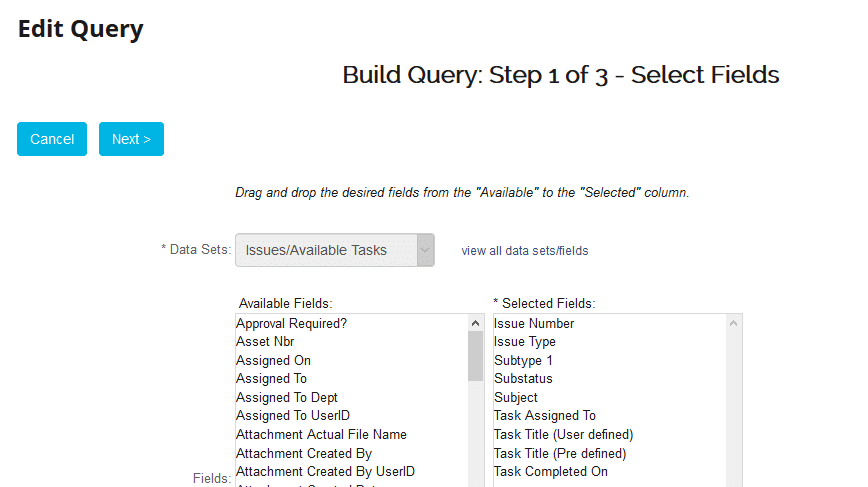 Creating Reports Specific to Tasks
Once the Query is created, the next step is to build out the report.
Navigate to Reports > Report Writer> Reports

Click New

In the Query dropdown, select the name of your newly created query from the dropdown

The fields from the query will all populate to the "Selected Fields" column. Remove or reorder the fields as needed.

Click Next

Grouping breaks out the data, our recommendation in this case is to group data by the field "Task Assigned To". This will organize all the open tasks by the name of the person or group assigned to them.

Click Next

(Optional) To remove headers or footers, uncheck the boxes, otherwise, click Next. Footers must remain checked if any counting is desired.

(Optional) To sort data, select the field, then click "Save Sort Expression". You can do this for each field if desired. When finished, click Next

(Optional) To calculate totals, select "Count" in the Subtotal column for any fields desired, then click Next. We normally recommend doing this under the Task Title fields, that way you'll have a count of tasks assigned to each person or group.

Give your Report a Name and a Title. You can use the same value for both fields. The Report Name is what you will see as a selectable option when you go to schedule the report, and the Report Title is what appears on the email that goes out when the report runs.

Click Save & Run if you're creating the report for the first time. If you're editing the report, click Finish.
The final portion is to schedule the report to be delivered by email. In a previous traktip, we discussed creating Scheduled Reports.opens PDF file When scheduling the report, you can set any user or group to receive the report. You would also set when you want the report delivered, for example - every Monday.
This will give you another way to stay on top of your tasks and make sure nothing is staying open too long!
As always, if you have any questions or would like to see this in action via a quick demo, don't hesitate to contact your Account Manager. We're happy to help!!

About Ashlyn Frassinelli