It's time for another Traktip!
Issuetrak already comes packed with a lot of features, but did you know that we also have a collection of Add-On Modules for organizations with specific needs?
One of those modules is our Chat Module, which allows you to integrate a chat client directly into your Issuetrak site. This is a great tool for customer support, help desk, or other instances where you might want to engage with your customers in real time.
In order to enable chat, you'll need to talk with your Account Manager. Once the module has been added to your account, you can follow the steps detailed in our Help Center article to switch on the chat capabilities.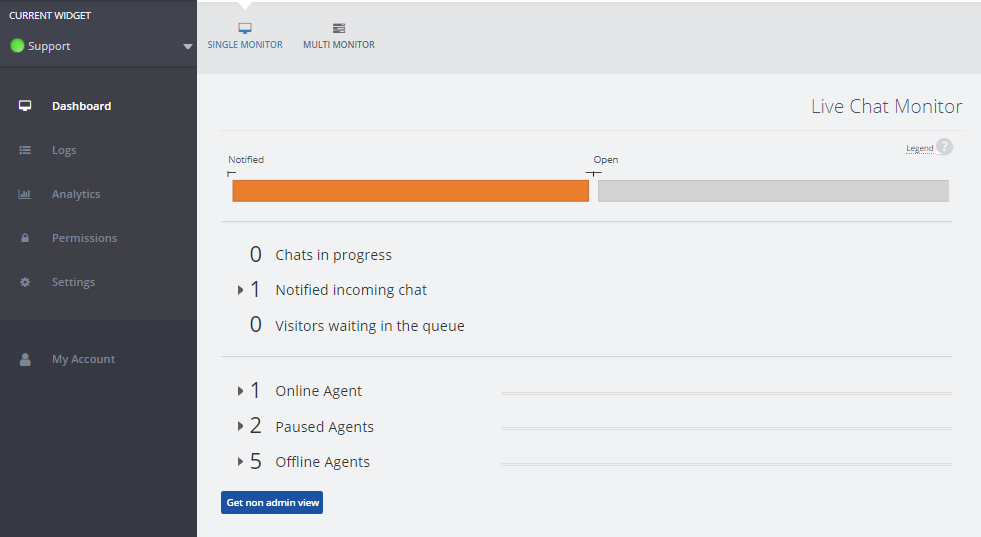 Automating with the Chat Module
There are a few ways you can automate your chat feature to work more efficiently. Setting up some of these automations can save your team time and allow you to serve customers and resolve issues quickly!
Proactive Chat
The Proactive Chat feature allows you to configure your chatbox to pop up on your site with a predetermined message after a certain amount of time or after certain conditions are met. For example, if a customer has spent more than a minute on a page without navigating away, a Proactive Chat window could pop up asking them, "Do you need help?" and offering them a few options.
To enable Proactive Chat, you'll need to go to the Admin Dashboard and go to Settings > Proactive Chat. You can also change settings such as the re-engagement delay if a customer closes the Proactive Chat window.
From this point, you can start building rules, such as sending a certain message after a user spends a certain amount of time on a page, or a special message if someone new arrives on your site. Here are the basic steps to create a new rule:
1. Navigate to the Proactive Chat tab and click "add proactive chat configuration".
2. Choose a Rule Type. There are many different rule types such as page URL, time on site, and more.
3. Choose an Evaluation Operator (equals, does not equal, is less than/more than, etc) and a value (such as "URL equals a certain URL", or "Time on Page equals 45 seconds").
4. Click the plus or minus signs to add more rules or to delete them.
5. Add the message you want displayed when the rules are met.
If you have any questions about configuring Proactive Chat, you can always contact our Support Team for help!
Chat Shortcuts
Another time-saving automation is the shortcuts feature, which allows you to pre-program canned messages that agents can then send with short commands. Whether it's a simple welcome message or an answer to a common question, having these commands set up can help agents respond faster to requests and tackle multiple chats at once!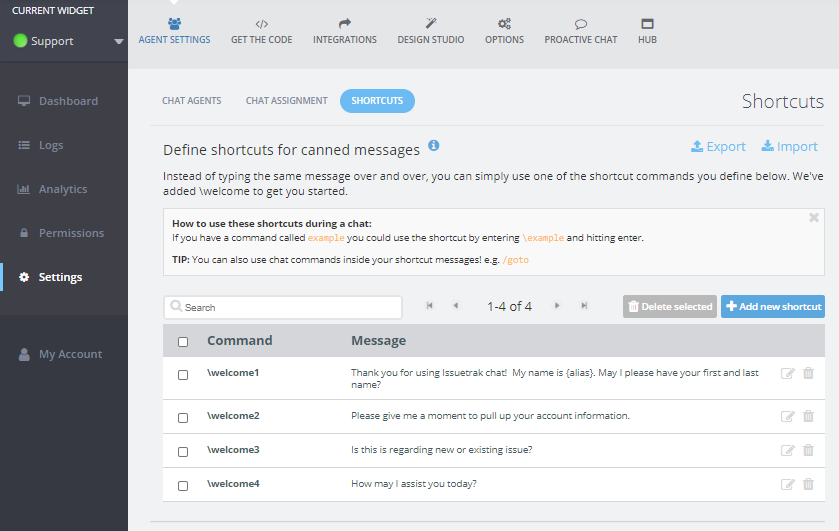 How to create chat shortcuts:
1. Log into the Admin Dashboard and go to settings.
2. Select Agent Settings, then Shortcuts.
3. Click "Add new shortcut".
4. Enter the command you want to use, and then the message that will appear when the command is entered. Each shortcut automatically has a backslash () added to it.
5. Click the checkbox next to the command. Save your changes and now you'll be able to use your commands in chat with customers!
And there you have it! If you have any questions at all about the Chat module, how to get Chat for your Issuetrak site, or how to enable these automations, please reach out to your Account Manager! We're always happy to help!