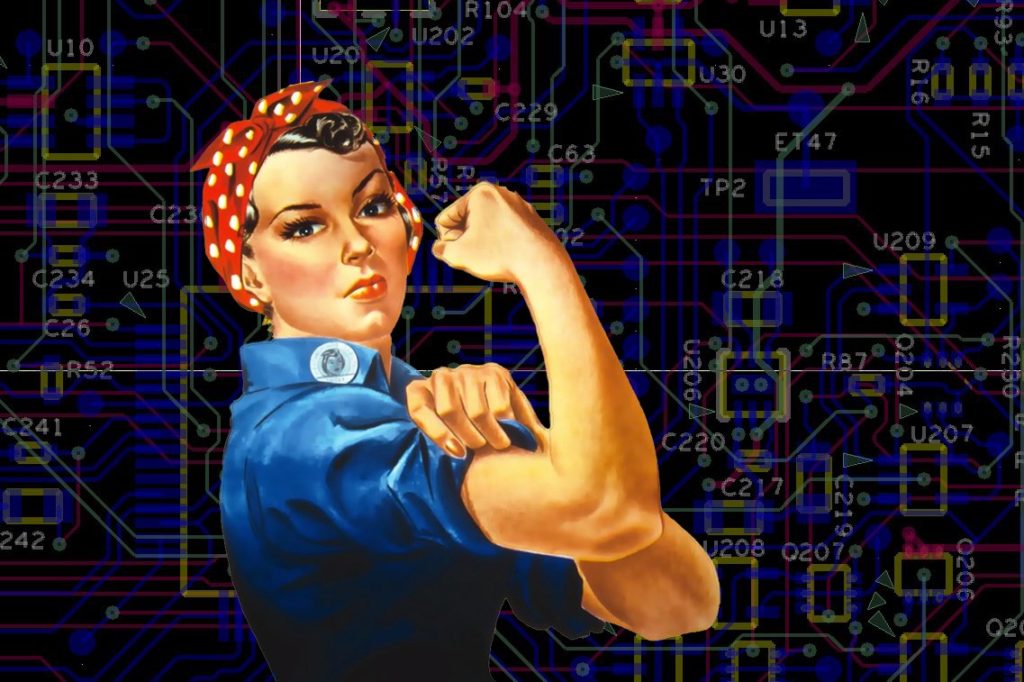 STEM careers (science, technology, engineering, and mathematics) were once dominated by men. Girls were not encouraged to pursue those disciplines, and women working in STEM careers were an exception to the norm. A perfect example is the story of the human computer Katherine Johnson featured in the movie "Hidden Figures". Johnson is best known for being "the girl" that astronaut John Glenn wanted manually verifying the computer calculations necessary for the Friendship 7 mission. The movie represented how in the 1950s and 1960s, women like Johnson had to work harder and longer to overcome the prejudices of the time to gain the respect of her associates. Through the breakthroughs of Johnson and other women like her, the tables are turning and STEM-based industries are more welcoming to women.
A recent showcase of women in STEM jobs is the movie "Black Panther." Because of the movie's success, the Walt Disney Company donated $1M to the Boys & Girls Clubs of America's STEM programs. The funds will "help expand the Boys & Girls Clubs of America's science, technology, engineering and math (STEM) programs" and will help establish new STEM Centers of Innovation. These steps will keep the momentum moving forward, encouraging more girls to choose STEM careers.
"Women represent 47% of the US workforce, but only 12% of computer scientists."
At Issuetrak, we value the diversity of our team. Our Workforce is 39% women and our team of managers is 50%. Women are represented in every department including: Development, Quality Assurance, Finance, and Technical Support. We also love to support our local community here in Hampton Roads Virginia. So when the first Hampton Roads Women in Technology meeting occurred, a group of women from Issuetrak attended.
The event was hosted at the beautiful, high-tech OneADP building in downtown Norfolk and the main speaker was Kim Mahan, Founder and CEO of MAXX Potential. Mahan discussed emerging technologies and their impact on business.
Mahan spoke about her "3 question rule" whenever she is exposed to a new technology:
What is it?

How mature is it?

How disruptive is it?
Following the 3 question rule allows you to discover what the technology is, if it's a new technology, and if it disrupts the flow of daily life. This is the first step to understanding if a technology is right for you and your company. For example, if the technology is at the beginning of its life cycle it might make things harder for your company, so it isn't something you should bring in yet.
Mahan also discussed 8 emerging technology trends and their impact on business. Those include:

Artificial intelligence (AI), such as Apple's Siri and Amazon's Alexa

Augmented reality (AR), which is the overlay of digital information in the real world. For example "seeing" Prince at the Superbowl during the Halftime performance

Blockchain, the

digital ledger for cryptocurrency transactions such as Bitcoin. These are recorded chronologically and publicly.

Drones

Internet of Things (IoT), which means a variety of devices (potentially anything with an on/off switch) connecting to the internet and to each other

Robots

Virtual reality (VR), the

realistic three-dimensional image or artificial environment created with a mixture of interactive hardware and software

3D printing, the

process of making three dimensional solid objects from a digital file
According to Mahan, these technologies open up a multitude of new opportunities for business strategy. Technology is reshaping every dimension of a company's interactions with their customers. Does the company use a bot to run their chat on their website? That's artificial intelligence! Artificial intelligence, robots, drones, and 3D printing can all improve operational efficiency and provide significant competitive advantage. New technologies can generate new companies, job categories, and opportunities.
Each of these opportunities is a chance for women to step up. Let's make sure that in a few years time, women have equal representation in STEM careers!