Whether you're simply getting tired of the default colors or you'd rather have a display that matches your business's color scheme, you may at some point feel like changing the default colors on your Issuetrak site display. Luckily, there's an easy way to edit those colors to customize your site so it fits the aesthetic of your business. We'll walk you through the steps to make your site look exactly how you need it to!
Applying Colors and Color Themes to Your Issuetrak Site
Go to the gear icon in the upper right-hand corner. Select System Colors from the System category in the settings lightbox. You'll be able to see your site's current color settings on this screen.
Clicking the Color Theme dropdown box reveals a few preset themes we've included for you to choose from.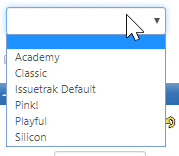 To apply an existing color theme, or to create and apply a new theme from an existing theme, select the theme from the dropdown menu. The color settings for the selected theme will appear.
You can define new color settings for specific interface items by clicking the color box next to the item and then choosing a new color from the Select Color popup window.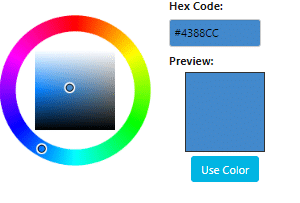 Colors can either be chosen via a color picker or through inputting a specific hex code.
To set the new colors, click "Apply Colors." You can also save the colors you've chosen as a new theme by clicking "Save & Create Theme."
In addition to creating new themes, you can also edit the preset themes we've provided for you.
Editing Color Themes
Within the System Colors screen, navigate to the right quick menu and select Color Themes under Appearance. Use the toggle at the bottom to expand and collapse the menu.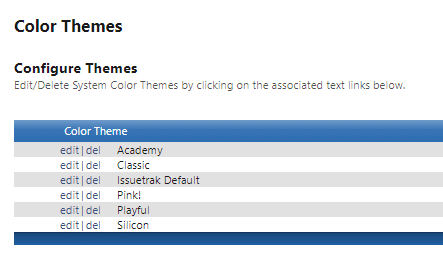 Click the "edit" button next to the theme you want to edit.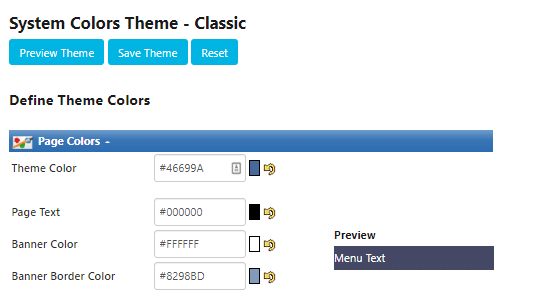 Now you'll be able to adjust the colors of each specific page element.
There you have it -- now you'll be able to adjust your system's color settings to match your company's colors, or simply update the site with a sleek new look. If you have any further questions about how to edit colors in Issuetrak, reach out to your account manager. We're always happy to help you!