Recently we've been showcasing features from our upcoming Issuetrak 14 release, and today we're announcing another exciting addition to the lineup: bookmarks! We teased this new capability in our last sneak peek, but now we'll be explaining the feature in more detail.
One of the goals of this release is to ensure our users have everything they need at their fingertips when working in their Issuetrak site. The bookmark tool allows users to add links to almost any Issuetrak page directly to the lower portion of their left menu, where they will always be visible and accessible.
Is there a particular page you find yourself referencing frequently, such as the User list or the Business Rules page? Or maybe a specific Issue that's important to you that you want to keep tabs on? Bookmark it and navigate to it easily with a single click. You can bookmark Knowledge Base articles, settings pages, User or Organization search pages, the sky's the limit! And the best part is that bookmarks are available to any Issuetrak user -- not just Admins.
Bookmarks are one of the most highly-anticipated features in our upcoming release, and we're very excited about the possibilities they bring! We can't wait to see how our customers use their bookmarks to streamline their Issuetrak processes, create new workflows, and more!
Here's a quick FAQ to walk you through how the new feature works:
How do I bookmark a page?
At the top of a bookmarkable page you'll see the outline of a bookmark symbol next to the page title. Clicking this outline will fill it in and open a small pop-up menu, allowing you to change the bookmark's title if you wish.
Once any changes have been made and saved by either clicking the "Save" button or hitting the enter key, you'll see your bookmark appear in the bottom portion of your left menu.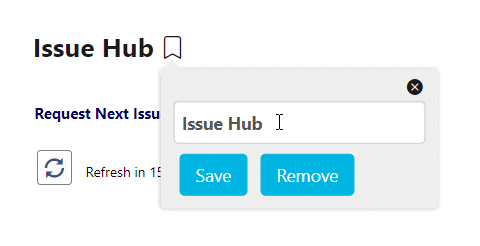 How do I edit / remove a bookmark?
You can edit or remove a bookmark by either clicking the bookmark symbol on the page itself, or clicking the pencil icon next to the link in the left menu.

What pages can't be bookmarked?
There are a few pages in the product that cannot be bookmarked, including Search Results, Report Results, and Global Issues.

What happens when I fill up my bookmarks section?
There is no limit to the number of bookmarks you can create in Issuetrak. When the section becomes filled, a scrollbar will appear to allow for browsing.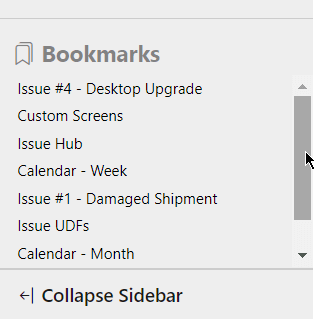 What happens when I collapse the left menu?
You can still access your bookmarks even after collapsing the left menu. A bookmark icon will appear -- click this to reveal a pop-out version of the bookmark menu.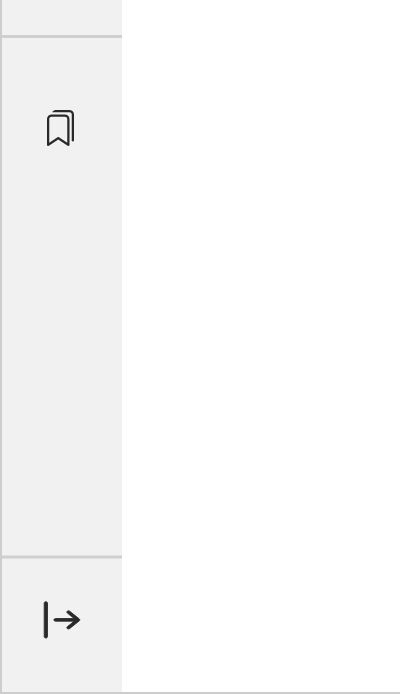 As we mentioned in our last blog post about Issuetrak 14, we're eager for feedback and suggestions and we want to hear from you! Please send in comments via our feedback form and stand by for our last few pre-release sneak peeks -- coming soon!