It's time for another Traktip!
The Issuetrak Surveys Module enables you to easily generate online surveys, send them to a target audience, and collect and analyze your results. You can set up surveys that can be manually emailed, or included as a link on another webpage. Primarily, surveys are sent automatically when an issue is closed.
If you prefer a broad-stroke approach, a survey can be setup to send to any and all. But the power of the survey module is the capability to create precise survey rules. These rules allow you to associate certain surveys with individual issue fields or statuses. Careful planning and setup ensures your surveys go where you decide, providing the targeted data you need.
For example, if your entire company uses Issuetrak to support your business operations, you might have IT, Facilities, HR, and Accounting all using the same site to track their processes and issues. When those issues are closed, you can automatically send one survey for IT issues, a second one for facilities issues, and a third for HR, while Accounting doesn't survey their issues.
Instead of one generic survey for everyone, you're not limited!
Setting it Up
Before you can create the Survey Rules, you must first create your survey. With the surveys module activated, navigate from the Settings Lightbox by clicking the gear icon in the upper right-hand corner of your screen. Select "Surveys" from the "Tools" portion of the menu. Then click "Work with Surveys". This takes you to the area to create your survey.
Once your survey is created and launched:
From inside the Surveys module, click "Back to Issuetrak" at the top.

If you're not in the Surveys module, navigate to: Modules > Surveys in the Top Menu, then click "Settings" in the left menu.

The list of active surveys will appear. Click "add rule" on the far right, next to the survey you want to set up the rule for.

Check the "Active" box to activate your rule.

Set the parameters for Class, Issue Type, Substatus, Organization, or any combination of these.

If desired, set the interval of how often you want the survey to go out.

Click "Update".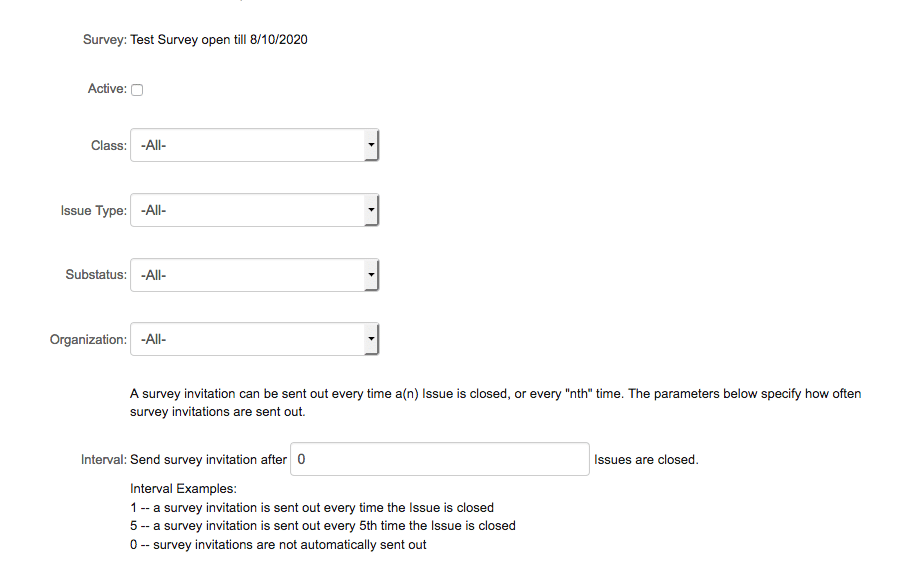 Repeat these steps for each survey that you'd like to create a rule for.
As always, if you have questions or would like to see this in action via a quick demo, don't hesitate to contact your Account Manager. We're happy to help!