It's time for another Traktip!
You know can set up your Task Manager to create branching workflows, but did you know that you could set up individual tasks to automatically be assigned to either the issue submitter or assignee? This allows you to save time and delegate tasks to the appropriate person in your workflow, without having to update each individual issue!
Built-in Variables
When using the Task Manager in Issuetrak, you have the ability to assign each task to a different person. However, when you're setting up a process that you want to use repeatedly, you may have tasks that need to be assigned to different people, depending on who is involved with the issue.
Issuetrak has you covered!
Instead of leaving the task assignment field blank, or assigning it to a specific user, you can select from a built in variable representing either the submitter role, or the issue assignee role.
Setting it Up
While you can use the submitter or the assignee variables from anywhere you use the Task Manager, normally you'll be using it along with the Task Group function where you're setting up your processes and workflows. In addition, in order for the assignment to take place, the users must have the permission to be assigned tasks.
To set up the variables:
Click the gear button in the upper right-hand corner of the screen to access the Settings Lightbox.

Select "Tasks," then "List" under "Task Groups" in the Context Menu.

Edit an existing Task Group. (You can create a new Task Group, but to get to the Task Manager, you will need to edit it.)

Click on the Task Manager button.

Click on New Task.

In the assignment field, type a hyphen.

Select "--Assignee--" or "--Submitter--" from the prompt.

Save your Task.

Save your Task Group.

Click Update.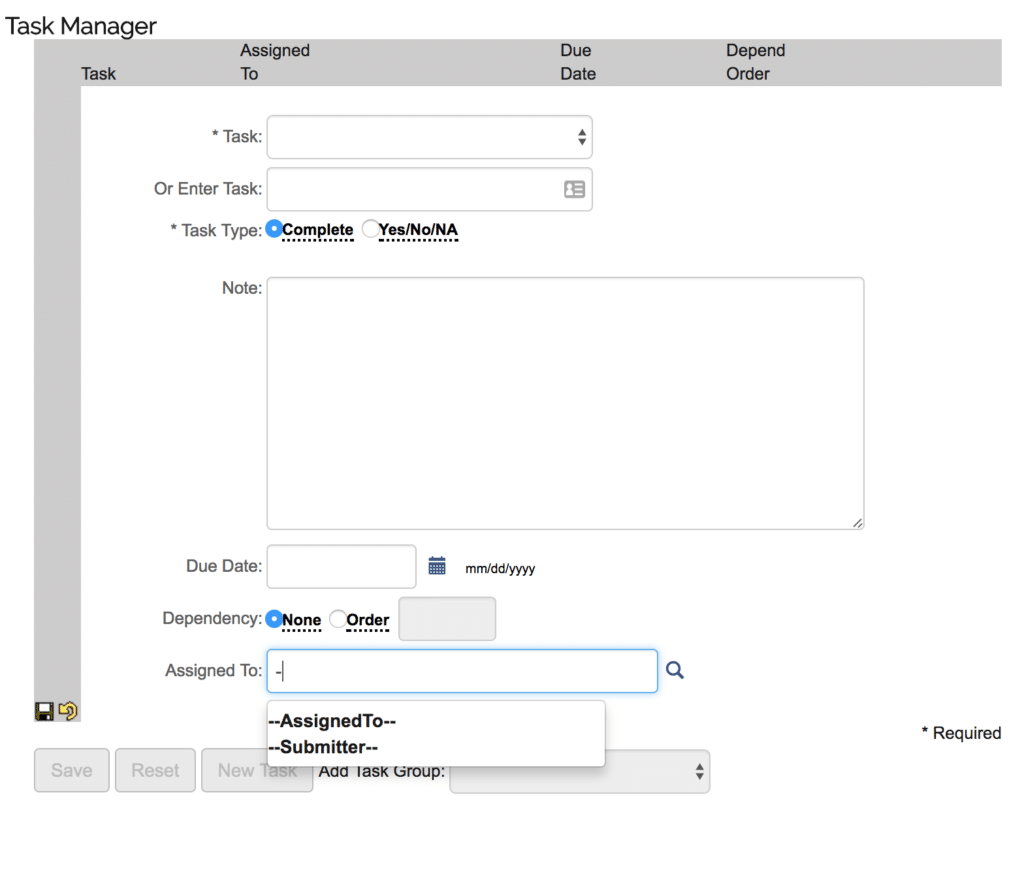 The assignment variable will be replaced by the appropriate user value at the moment the task is added to the issue.
As always, if you have questions or would like to see this in action via a quick demo, don't hesitate to contact your Account Manager. We're happy to help!